We ended up cancelling our Buying Foreclosures and Shortsales class in Monroe because we didn't have enough people signed up. But, I thought it would be good to share some of the information from the class. You can find the slides from a previous class here: Right way to buy foreclosures – Class Notes.
One of the things we cover in the class are foreclosure statistics. We use data from RealtyTrac.com, one of the places where you can register to get notified about upcoming foreclosures, in case you are interested in that kind of investment.
First thing we check for each class is where Washington State ranks for foreclosure rate, stated as foreclosures per number of homes. For the last few years, Washington has ranked just shy of top ten. In August 2013, the latest numbers available, Washington had the 15th highest foreclosure rate in the country. You can see the "top" ten here: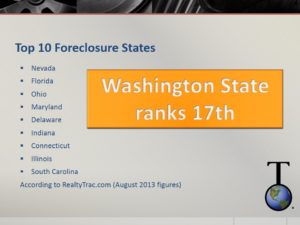 Now that we know where Washington ranks, it is important for our students and any clients considering investing in foreclosures to know which counties have the highest foreclosure rates. This tells them where the most opportunities for purchasing foreclosures are and it tells them how much flexibility lenders will likely show in negotiating prices (fewer foreclosures will usually mean less price flexibility). This heat map shows that King county has fewer foreclosures than Snohomish and Pierce counties, which have some of the highest rates in the state.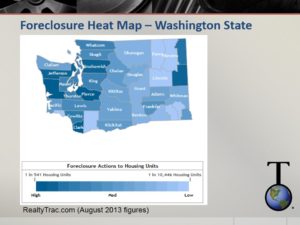 Its also useful to know where the trends are headed. If the trend is towards fewer foreclosures, then we can reasonably expect values to go up and we also know that as investors, we need to move a bit more quickly and not waste too much time hoping to find a 'better' deal. That doesn't mean our investors shouldn't shop carefully, but in a market that is improving, they may need to go with a deal that is 'good enough' instead of 'perfect'. At the current time, in both King and Snohomish county, the foreclosure rates are falling with both the number of homes headed to auction and the number of homes already foreclosed falling: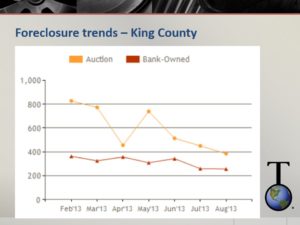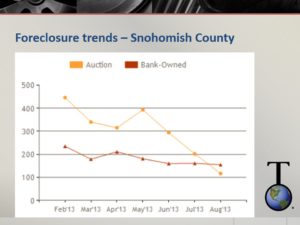 If you would like more information about buying foreclosed properties, check the link to the class notes from our previous class, or give us a call or email, or ask us a question here.